I got to go play in the woods this week for the first time since squirrel season ended. It was a really nice time. February was mostly about sick kiddos and work and sick me and more work so a day away was really nice.
I was afraid I had missed the last of the winter weather this year but the roads were treacherous early in the day and as the temps moved above freezing and the roads cleared, the snow squalls continued. I was thrilled to see one coming on while I was moving down the highway. March isn't March without an early snow.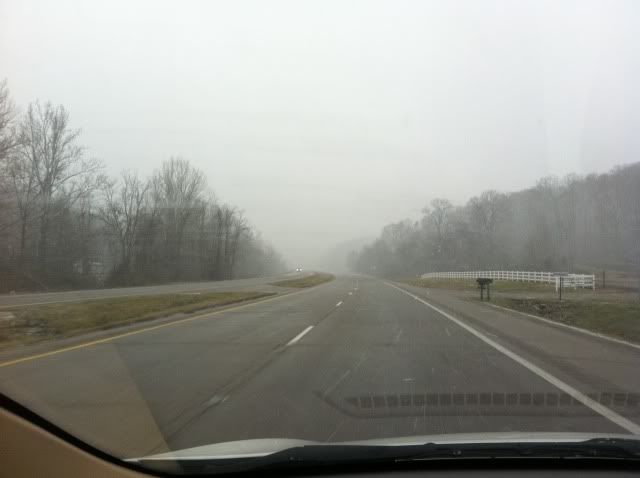 The snow wasn't completely off in my woods either. The north-facing side of the ridge offered some nice views and some last glimpses of winter before it faded out completely. I hear lots of people say they really like this global warming thing. I myself miss the snow and cold.
The first reason for our visit out was to get the 17 out and see how the scope I picked up for it would do. I foolishly talked myself into taking it out without having had it to the range once to get it on paper. The clementines I took to use as targets / lunch did not really know the difference until we got out beyond 35 yards. I was having trouble getting a precise read on the POI / POA so I used about 50 rounds and had some fun. Weaver optics, even in this little rimfire guy they have (2 to 7 X 28) are just dynamite. Many times I wish I had more money to buy their higher end stuff just to see how it does in comparison. For the $ though, I am a Weaver guy for sure.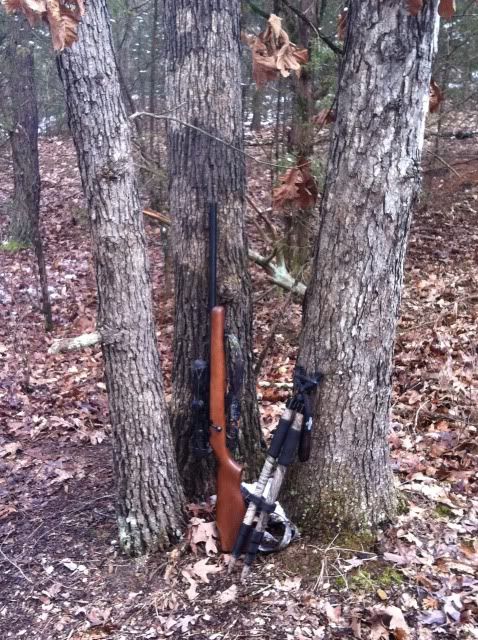 The second objective of the day was retrieval of the Bark River Bravo Necker I had left in the woods. In January I had taken this blade to the woods with me and left it hanging in a tree by accident. I returned three weeks later and after some looking, found the tree and knife. It was unharmed so, I decided to hang it in the old cedar tree I was photographing that day until I could get back to get it. It turns out that was 6 more weeks.
When I arrived, I found it just as I had left it after snow and tornadoes and rain and rain and rain. She was hanging tough, kydex still in place.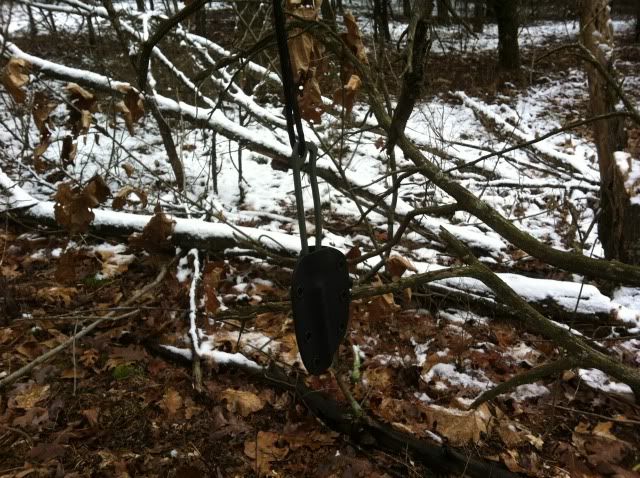 The real test though was to see how it did in full exposure to the elements with no intervention. I won't lie, I love these little blades. It's my full intention to carry one as my game knife this year and going forward. They are tough and very functional. I was anxious to see how the 12C27 held up.
For the most part it appears to have been fine. The rust in the picture is where the kydex contacted the blade and trapped water. I will work with it and see how it cleans up.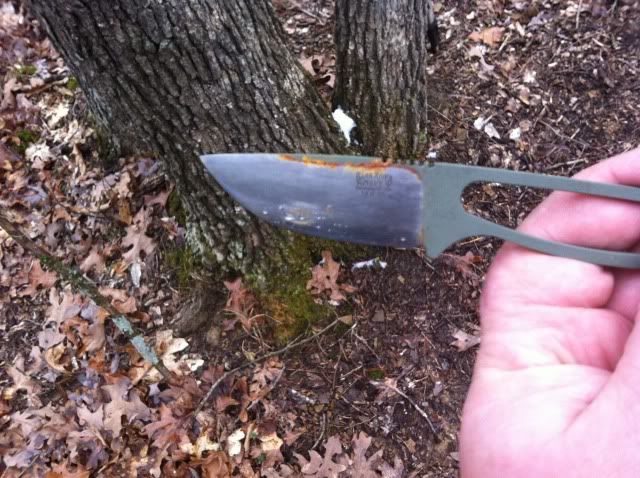 The opposing side fared a bit better. At this point I am inclined to consider removing the coating and changing the sheath. Otherwise, the blade is tough enough to hang out in the wild, unattended for an extended period. It's hard to beat it. I think this one earned a place in my kit....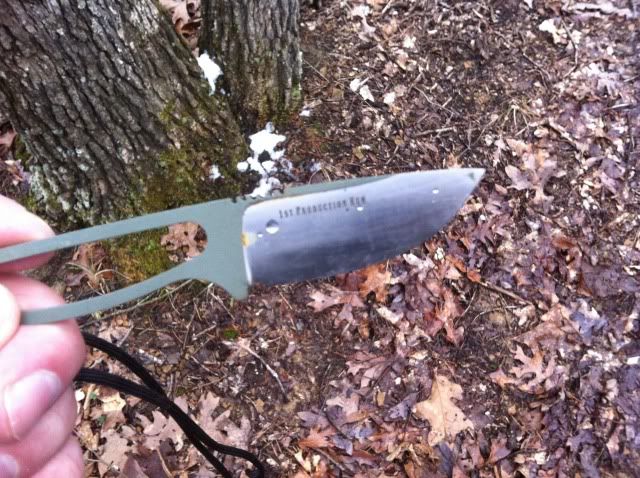 I am in the process of working up what my gear for the next season should look like. At some point, down the line, I'll post up what I have found it getting it out and working with it. Some of the long-held ideas I had seem to be improvable and with my back finally working, I will see what I can do with things. Thanks for looking, as always...