I have been cleaning off my bench and sorting out leftover parts and so on for a while now. Aside from figuring out that I have more stuff than I can get into one cleaning session, I was also able to assemble most of a 10/22 from the leftover parts I have from previous builds. I see it as a sure sign I have done this sort of thing with the little Ruger, too many times...
I had a Rimfire Technologies hammer from somewhere and a Power Custom sear that I pulled from an action for some reason and the dozen or so other parts it takes to build the trigger group. Basically, I just needed to make sure I wasn't missing anything so, I went to it. I was able to get the safety installed without losing the plunger or the spring (yes, I was happy) and I discovered I was only short a sear spring and sear pin. I dialed up my good friends at midwayusa.com and 3 days later, it was time to assemble.
First, I installed the magazine and bolt releases without any trouble.
Trigger, sear, and disconnector fully assembled and spring loaded. The short cheater pin is very helpful. Use it to assemble and insert into the trigger guard and then feed the full length one in...
Once it is installed. Volquartsen trigger, Power Custom sear, stock Ruger disconnector...
The hammer and bolt release lever spring installed with out a hitch too. I also got the trigger return plunger in without shooting it across the room. This went pretty well.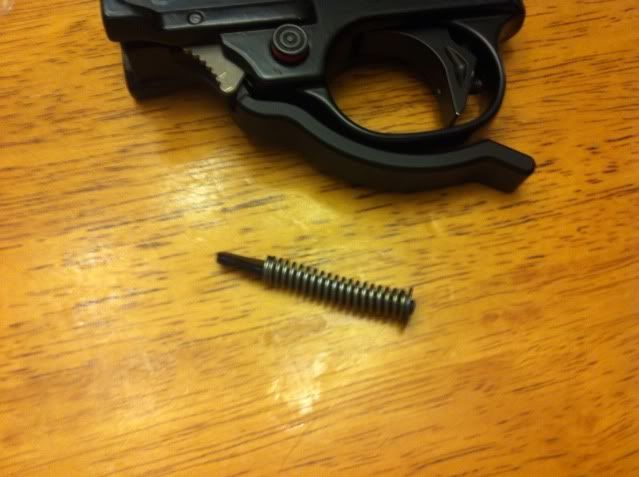 Installing the extra power hammer spring on the spring strut was a bit more of a challenge than I expected but in the end, it worked and I was able to finish up the assembly.
It has a good deal of pretravel which is OK for me, given that this one is a hunter. Having some take up in front of the break point is a good thing in my other squirrel gun. It seems to break crisply and is a marked improvement over the factory set up. We shall see...
Next up... The Stock and it's mods. Stay tuned.