So let's go into this by setting some expectations and levels so we all know where I am coming from. In 2009 / 2010 I really hosed my back up badly. (Pinched nerve, no walking, no bending, 4 months of PT, hosed up...) Since things have gotten better, I have conducted what I regard as a holy quest to find the most useful kit carrying solution for my days hunting in the bush. It needs to be something that doesn't let me pack anymore than I need, holds everything I want it to, and can be as adjustable as is possible so I can move it around if discomfort appears. The other requirements in play were the standard ones I had for hunting packs when I started out on this some time before the back injury thing:
Does not interfere with shouldering a rifle.
Fairly tough design and construction.
Easily accessible without unhooking and dropping the pack. (This is all about magazine changes and water while I am moving)
Semi muted coloring. (no dayglow green, etc.)
Enough space to carry what I regard as the essentials for a full day out:

2ish Liters of water
Shelter (currently a 5 X 7 tarp)
First Aid Kit
Emergency Kit
Food for 8 hours (usually 3 chunks of jerky and a granola bar or two)
Cordage (6 - 4' 550 cord)
a cup and small heater for making instant Starbucks. :)
Along the way on this journey I have bought, packed, and used a Noatak Gearslinger, a Colossus Versipack, a Falcon II pack, a water bottle carrier (small and large), a Kelty waist pack, a Versipack Jumbo S-Type, and an ALICE pack. I have tried them all and all have failed enough that I decided to keep looking. The Falcon pack is a solid performer in the bush but for hunting, it's not so good... and it's for shorter framed folks. :)
About 2 months ago I picked up this bag... OD Green, garden variety Jumbo Versipack. I flirted with Condor and other knockoffs but the durability associated with the constrction I have observed in the Maxpedition bags has been superb and the $20 savings just wasn't enough to move away from them.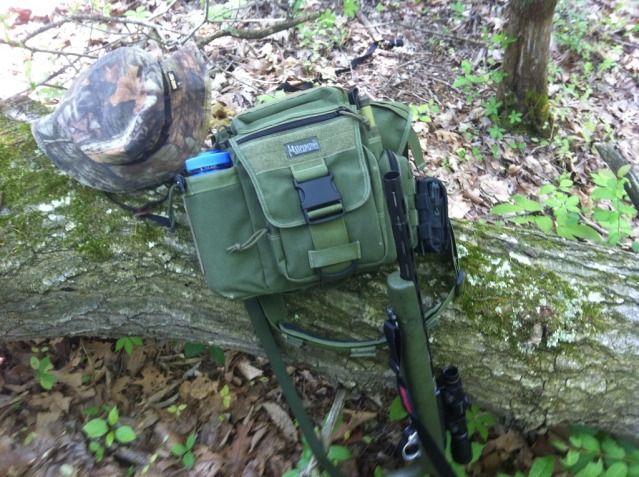 It turns out that the waist strap can be adjusted to fit someone beyond the 130 lb waif Maxpedition uses as a design target. I ordered some footage of 1" Polypropylene webbing and modified the existing configuration. Now it works like a charm. In two field tests, each of a day's length, I have had minimal issues with achieving the functionality I am looking for this with this pack. The shoulder strap can get annoying around th collar area but with some adjusting, it works.
The load out wound up like this on my last trip...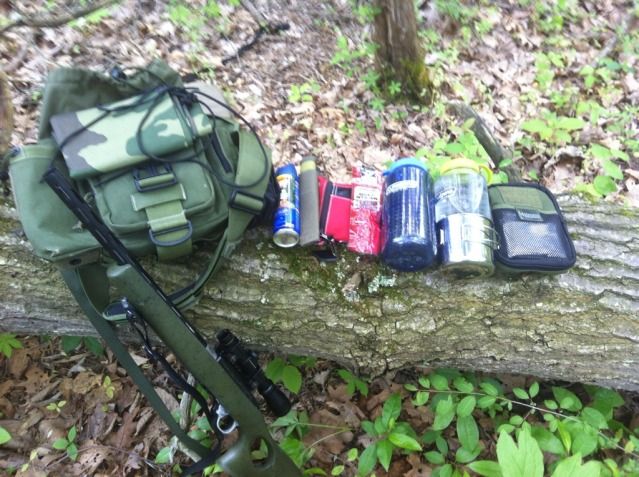 Left to right that's my tarp and cordage, my OFF!, a Mora 2000, the red bag is the emergency kit (PJ cotton, firesteel, etc), two packs of jerky, the Nalgene bottle that fits in the external holder, the Nalgene bottle and nester cup that fits in the bottom of the bag, and my first aid kit. Packed in the CCW compartment is a rescue blanket I use for ground cover. I did add a double mag holder on the forward pocket. I have a flashlight and a leatherman Wave multitool packed in there and the MOLLE attachment is rock solid.
I have three more test runs with this set up planned before the official season kicks off. I have some minor tweaks for ground cover and some other stuff but I think this just about set. I'll post up more as I go.