In January of this year I started looking for a knife that packed small but didn't give away much in terms of grip ergonomics or functionality. I have a rampless Bravo 1 that I love dearly and will keep to the end. It's one of the most comfortable blades I have ever used but the damned thing is huge.  I wanted something smaller. The Gunny and the Bushcrafter from BRKT appeared, on paper anyway, to be possible solutions.

I ordered the Bushcrafter first because I wanted it to work really badly. If you ever get to watch Mors Kochanski's videos on what he feels makes up a good knife ( and you think he knows what he is talking about...) the appeal of the Bushceafter becomes pretty obvious. I made 1 trip with it and then made no more. I sold it the next day. That knife is not for me. While well made, the grip is not something I liked and the blade geometry was not really what I wanted to deal with. Good knife, not for me. Then I ordered a Gunny from knivesshipfree.com.
My A2 / Antique Micarta Gunny
Since it arrived I have taken it on 5 or 6 trips into the bush. I have completed a few challenges / class things with it over on BCUSA including the 3x Prep exercise of the Hardwoodsman's challenge and the five splitwood fire requirements of the Intermediate bushclass cert.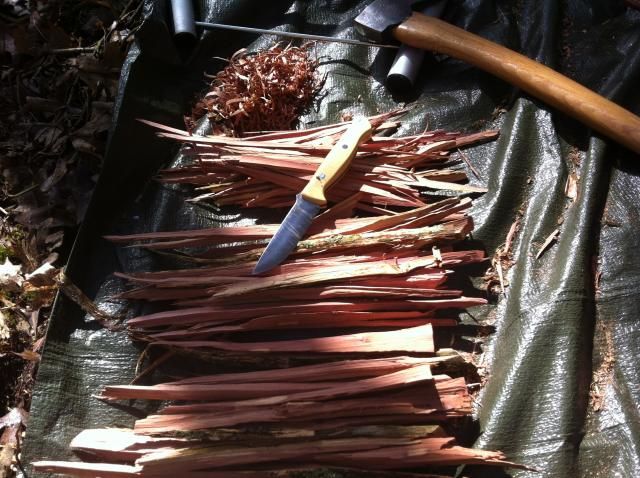 A Fire Prep Example
I have to say that I have been impressed with the Gunny in a number of ways. Firstly, the handle fits me like it was made for me. This is something I didn't expect at all. I was concerned out this doubly because I was not able to fine a rampless knife in a handle material I could stand. Turns out, the ramp isn't really an issue on this one. Hated it on the Bravo. Don't mind it on the Gunny at all. Second, and this has been a surprise also, I have prepped maybe 10 fires with this knife now and it is just now where it needs the edge touched up. The pile in the picture above is cedar and, granted, it is soft however, I have done hickory, oak, pine, and even gotten this blade through some red elm... It holds a superb edge.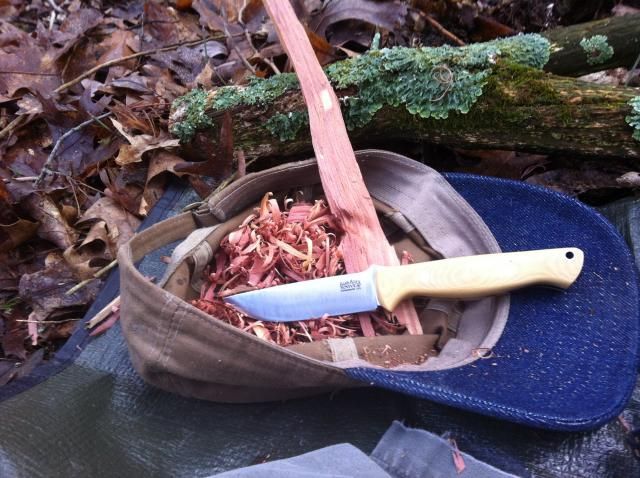 I've used knives, both custom and other, that cost a good deal more than this little blade and carried much more "forum cred" with the "experts". I have to say, this is one of the best blades I have used... including other models from Bark River. If you are in the market for a good field knife that won't break the bank, is pretty damned tough, and not so big as to get in the way... I suggest this one.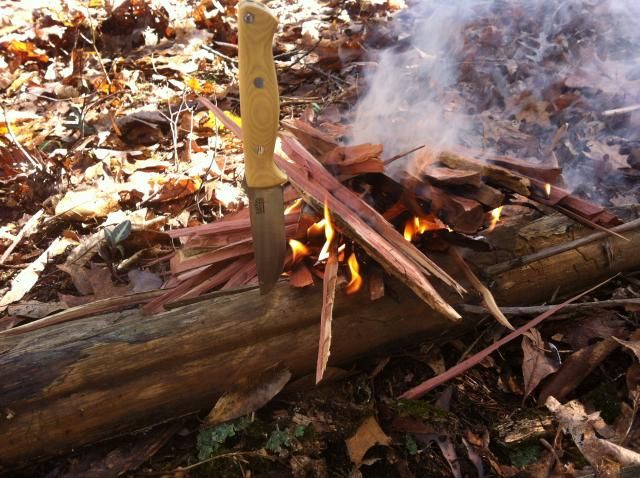 Here's the me and the Gunny doing the 3x prep thing for the Hardwoodsman Challenge if you want to see it. Admittedly I'm not driving it into rocks and standing on it but I think you get the idea. It can take some working without much issue...
I guess one final note of endorsement goes like this. I liked this knife so much that I decided to buy a second one. I have absolute faith in the Bark River warranty for these knives so I know they will fix whatever I break but I didn't want to be in a spot where I didn't have one to use... #2 is a Ghost Green Jade handle... very nice. Anyhow, thanks for reading along and feel free to hit me up with any questions.
-JP