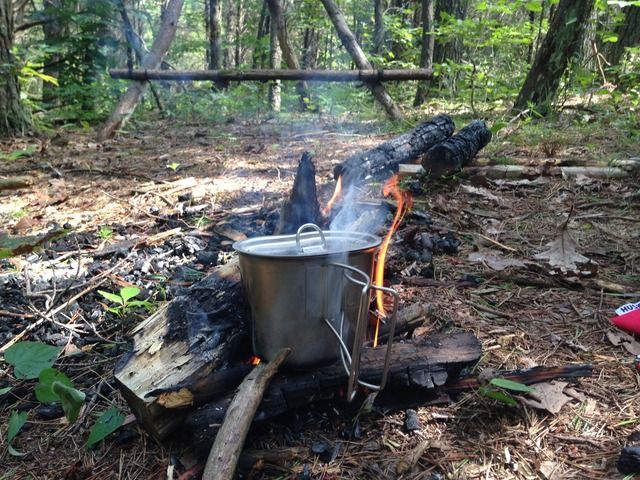 One of the things that has become paramount in my longer-term planning is the concept of managing money. I started to notice that a lot of it gets wasted along the way. The world nurtures the impulse buy and fosters the idea that good things will come of buying more stuff. Once recognized, it can be dealt with effectively. One of the side effect of that is that everything else, the not immediately obvious drain on time or finance, becomes worthy of scrutiny. As that would relate to the contents of this space, let's talk about the idea of gear / kit / essential whatnots and how those get selected.
An idea that has frustrated me for some time is something I am going to refer to here as the cult of kit. It's the same basic paradigm employed in other hobbies that have an element that's tied to the tools used along the way. Golf, for example, is fantastic at this. An advert that goes something like... Golfer Champion Man / Woman uses these gimmick-riddled products from company X which are now available to you as well, you poor sad 31 handicapper. Using them will certainly not hurt your game and will only enhance your chances of success... (What a load of shit. Spend the money on lessons / range time/ rounds of golf with your old irons...) Music is the same way, especially guitars... Texas Blues Legend only plays beat up StratoJiggers and now, just for you, you can have a pre-beatup StratoJigger just like Texas Blues Legend. I mean how can you sound like him without this... and these ploys are masterful. For a while you feel really good about new gear. Then one day, you don't feel it anymore and you're just you again. Now, you can practice and get better and feel better about things but that takes work, time, and commitment OR... you can just buy the next thing, looking for the perfect whatever to help that process go smoother... I mean, it's got to be the gear holding you back, right? (profound sarcasm in that last question...)
I'd love to say the bushcraft / survival / camping / whatever hobby is a different animal but it isn't. For literally years I have been avoiding the real issue with my lack of satisfaction with my tools in the field and buying more to just keep the dream alive. It was stupid. Following that idea cost a lot of money and clouded the actual goal; let's get good at doing things out in the bush that we really enjoy.
With that in mind, I've had a few months to sort out some kit. I sold off some ridiculously expensive gear and didn't miss it. I also started doing some research. After a good bit of reading and some soul searching I figured out that what I really wanted was to get back to a fundamental set of tools and components to take with me and they needed to meet some very basic criteria:
Whatever we're using needs to work. Example: If we need a poncho, get a poncho. Trash Bags are still just trash bags and unless you absolutely need to use them to make it work, don't. Just also make sure it also covers 2 & 3 here...
Whatever we're using also needs to be replaceable or carry no deep sentimental or financial value. Examples: No one of a kind, family heirloom, super duper carried from Midway to Iwo Jima rucksacks from Grandpa. No $1000 custom knives... It's even better if Amazon sells it, whatever it is.
We need to accomplish those two things the cheapest way possible. Example: GB axes are great. Ray Mears loves them. the Trupper I bought at TSC chops wood the same way and stays sharp... who wins?
With that in mind, I started working out the idea of a good day kit. Something I could take with me for bumming around in the woods for a day and probably more suited for a comfortable trip but modifiable for a little more involved thing like a long hike over some remote spaces, etc. I figured a good first test of such a setup would be a good hot day, out at the folks, with a fire and some coffee, just to see how it went. The key components I was able to outline upfront were:
A GI issue canteen with a cup & lid set
A factory knife of some sort
A folding saw
A fire kit
A Tarp
A Flashlight
Cordage
It has some limitations but should cover all the bases and provide a good starting point for things.
Here's how it shook out on today's first run...
I was able to find a new Rothco 8320 shoulder bag on ebay for $15. It's very functional and held up well through day trip #1 today. The strap is one I made from components available at strapworks.com. The shoulder pad is a Maxpedition thing I had from another bad. I had it, I figured I use it.
The kit all laid out looked like this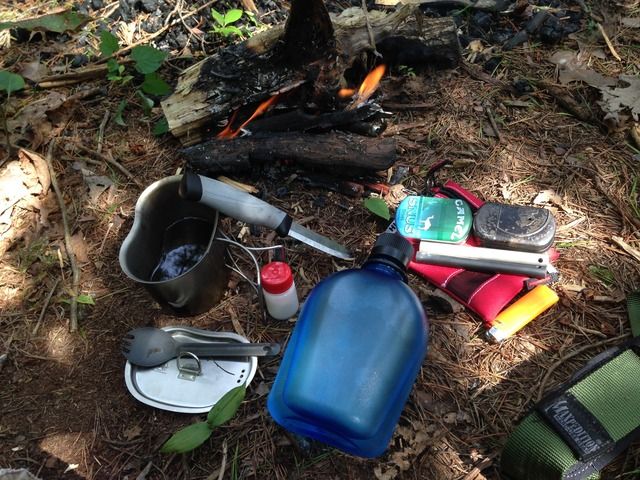 I had some really good luck with the items I included. Everything worked well. The Coffee was very good...
I was also surprised by my luck with the knife choice for the day. I made it based on cost and some reviews I had read and was completely prepped for the idea that it would suck.... but it didn't. :)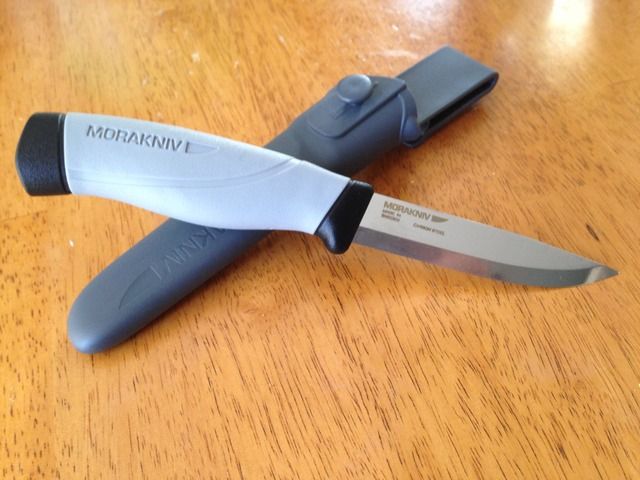 The Mora Craftline HighQ Robust Carbon turned in a fine performance today. Check it out...
I kicked the crap out of it batoning old cedar and it kept on going and...
following that beating, it made these with almost no effort at all...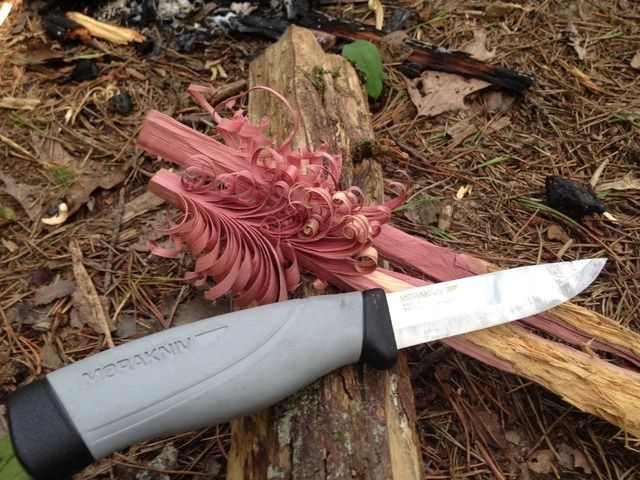 Not bad for a blade you can get on
Amazon for $14.81
at the time of this writing... That's not to say it came ready to roll. I did have to sharpen it up and square the spine and so on. Still though. I am pleased. I plan to keep using it for a while and we'll see how she holds up. More on that to come...
Anyhow, I would just say it was good to get out and enjoy things and be less concerned about the gear and more into the results. I'll keep posting as I refine things. There's an outstanding question now about how the overnight kit will look....