Howdy all. So for a while now I've had this bit of 3/32 O1 in the basement and about a month ago I decided it was time to make it into something. What popped out is the bade pictured in the knife below.
Interesting story around it. I had showed it to a friend who told me he was looking for just such a knife only he needed it to look... old. Now, even if you know nothing about knife making one thing you probably know for sure, people that make things by hand don't make them to look old. No way. At the same time, dude did offer to buy if I could pull it off.
Here's the way it turned out. I got really lucky in that the bluing I used to age the blade was willing to buff right back off after I set up for about 10 minutes. Also, the spalted Pecan I had on hand to apply for the scales on the handles look bleached already so....
I've posted it in a forum or two and the results are pretty well the same. People either love it, think it's a joke, or don't believe it is brand new. I take that as a good sign. I have had one other inquiry about buying one made just like it though... Go figure. Spend time learning to sand so you can put it chemically... odd old world it is.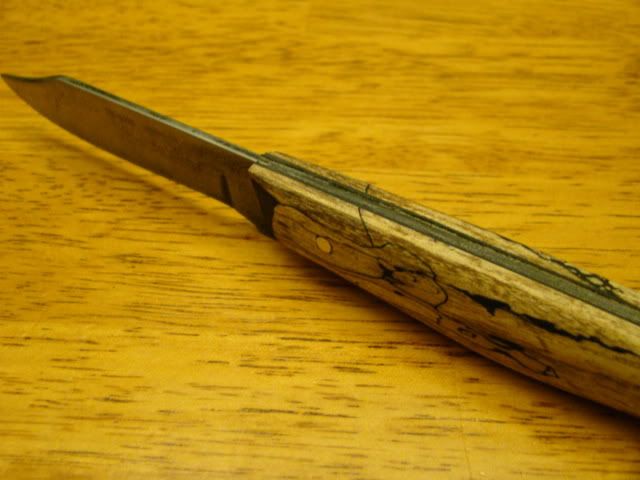 Stay tuned. More to come I am sure. I will probably make one more the same size just so I have one. I liked it shiny.... ;-)