For Christmas this year I got some money and I was looking to make a change in my EDC setup at work. Since I no longer faced lugging a laptop in and out everyday and I had decided that if I was ever going to retire it was time to start packing lunch, I went looking for something I could use as a carry-all and for lunches. I landed on the Colossus Versipak from Maxpedition.
I've messed around with a few pouch configs and landed on adding the M2 from Maxpedition for my iPhone and a dual magazine pouch from Condor for my flashight and multitool. Between those two and the pockets on board, I am pretty well able to carry everything I need and have no issues with retention or shifting or anything like that. Aside from the occasional odd look from folks I am really enjoying using this bag for day to day lunch duty. The padding insulates pretty well and the gladware containers fit right down in the main pocket with and ice pack and no fuss.
The other great thing about it was that I was also pretty sure I could pack it up and take it to the woods with me when I went hunting. It turns out I was right. I strapped on the bottle holder and it was good to go. It turns out that there is also something to be said for this ability in the eyes of my wife. She regards my man purse fascination with mild amusement and some disdain for the prices... That I can roll into the office or the bush with the same set up makes it a better option in her mind. I just think it's a good solution. :)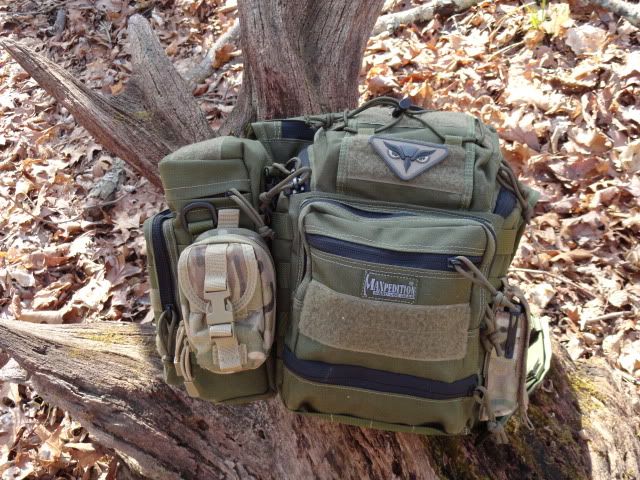 Before the M2 I was using the Condor iPouch and a Voodoo tactical dual mag holder. Both are excellent products and have been moved to a different pack. I am accumulating a pile of pouches. I need to sell them.... :P
So to give a sense of what the compartments can hold have a look at these: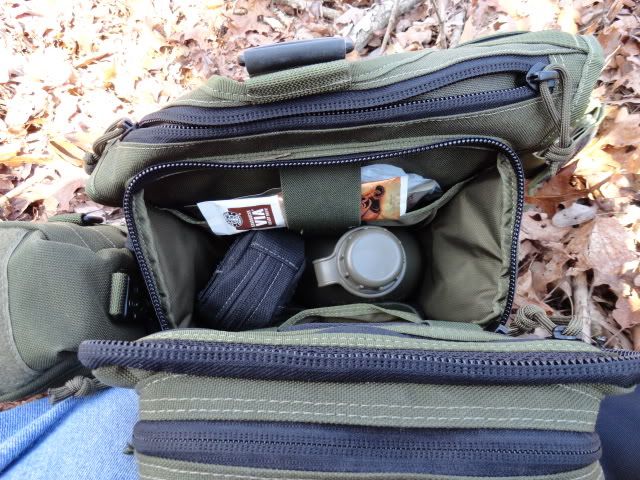 The Main Compartment
 Here's what it looked like, packed out for a day in the field. I have a small stove, a GI canteen, 2 MRE's, and some Starbuck's Via in there. It's not tight.
On the days I am packing this to the office, the main space holds a 27 oz Kleenkanteen bottle, and ice pack and a plastic food container or two. I the lid, I typically have a pack of gum zipped up. This is a bit tighter but still not a strain.

Top Compartment
I keep the lid packed with some very basic FA stuff... Two sizes of band aids, a contact case with Ibuprofen, Aspirin, and Imodium pills (because all three can come in handy on a really bad day in the bush or any other place you may be...), some hand sanitizer (you can see the cap in the center there), and some topical antibiotic cream with pain killer. The emergency blanket and water proof bag are typically in the front pocket however, for this day out I added some extra fuel in an extra tin and had to move these.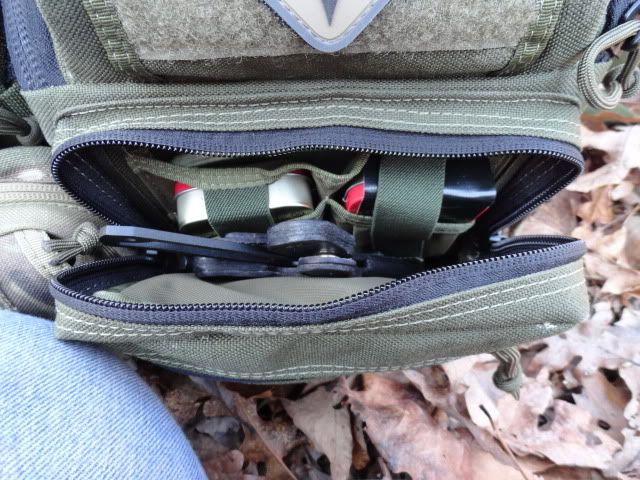 Front Compartment
The front compartment holds a PSK, write in the rain notebook, an emergency blanket, and typically a few pens and so on during the week. For this trip, the left hand slot is holding a tin of PJ cotton balls and I have a Bravo Necker in there as well. (Best squirrel knife ever...)
If you do some reading you will find that the front compartment can be configured as a top and bottom half each with separate zipper access or as on big compartment. I run top and bottom all the time. I keep batteries and a petzel light in the bottom.
As far as carry goes, it really is an ugly thing to look at. In terms of function though, this one is really well done. The wide strap and shoulder padding make it comfortable to carry and the ambi design let's you shift sides without issue if it gets heavy or whatever. It's a really nice design. If the looks and size are what you are after, I have to say I think it's worth a look. I'll hang on to mine for a good while.